Hi! Today I will be sharing some powerful and inspiring fictional characters.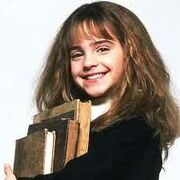 Hermione Granger, in my opinion is the best female character there is. She is smart, and always tried to do her best at school(of course, when she was in front of the boggart it turned into a teacher telling her she failed all her exams) and didn't let anyone else tell her what to do. And, she started the S.P.E.W organization. She also punched Malfoy...and that makes her on the top of my list.
Luna Lovegood was very different from the other students, but yet so talented.
Neville Longbottom, showed courage by standing up to Harry, Hermione, and Ron in the first book and showed lots of courage throughout the other books too, especially the seventh book. He's portrayed as a coward but he does have lots of bravery. Plus, he deals with Snape(I wouldn't be able to) and forgets lots of stuff(that's why his grandma gives him a rememberball which Malfoy steals, but then Harry wins back, and then Harry becomes seeker...so yay!)
Ron Weasley always kept the books humorous with his jokes. He was a good character who was willing to sacrifice himself for his friends.
Harry was very selfless, and valued other people more than himself. He also said the word,"er" a lot which for some reason I like. And, he totally became seeker before Malfoy.
Albus Dumbledore was the best principal Hogwarts had ever had. He also always came to the rescue, when Harry needed him.
Fred and George, like Ron also kept the book funny, They continuously cracked jokes and made things that they would sell in their future joke shop (and there was a joke shop eventually where they worked)
Mrs. Weasley has always been good to her children and extremely giving to Harry. She also knits awesome sweaters.
Sirius Black, though thought to be a murderer was quite a good guy, always helping Harry when he needed it. It was sad to see him die.
Lily was sacrificing and kind, and so was James, They sacrificed themselves for Harry.
Remus Lupin was a great defense against the arts teacher and a great person.
Anyways, bye! Oops, I just realized that all these people are only from Harry Potter. Oh well....