Hi! Today the winners of the writing contest will be revealed! There will be a first place, a second place, and two honorable mentions! It was so hard to pick the winners. I even had to ask other people to help me pick and we argued over it a lot. Thank you to everyone that participated in this writing contest! It means a lot! And, I didn't think I would get so many entries! I really enjoyed reading all the entries! All of them were great! You can find links to all of the entries on the post about the writing contest.
So the First Place Winner of this contest is.........
Elisabeth!
Congratulation!
Elisabeth's Entry
softly we tread
on the stars of dreams
escaped
from deepest slumber
softly we tiptoe
the dreams are waking
colors
leaking from the shadows
softly we tread
past the darkness
back into light
s o f t l y
Below is your button!
Prizes:
Elisabeth, you can either choose from having your button on my sidebar for 3 months or an interview.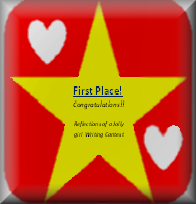 The Second Place Winner is.......
Chloee!
Chloee's Entry
Can
That little box I keep.
Tucked in the closet.
Engraved with a tulip.
That you don't know of.
It holds all my hopes dreams and secrets.
The glittering gold that glows form the box.
Those are my dreams.
And that shining silver shooting from it.
Those are my hopes.
And that blue drifting out.
Those are my secrets.
But that black that seeps from the box.
Those are my fears.
It slowly slips out showing them what lays at the bottom.
Hidden beneath all my hopes dreams and secrets.
Laying at the bottom.
Hoping no one will find them.
The foul smell.
And it's the stuff nightmare's are made of.
It taunts and teases.
The silent screams come from the box at night.
And they whisper for me to turn the key.
That'll let them out to roam.
Below is your button!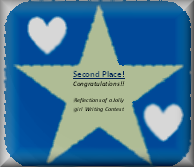 Congrats! I loved all the entries! Thank you for entering! I'm really happy that 9 people entered! That proves that I have awesome followers!